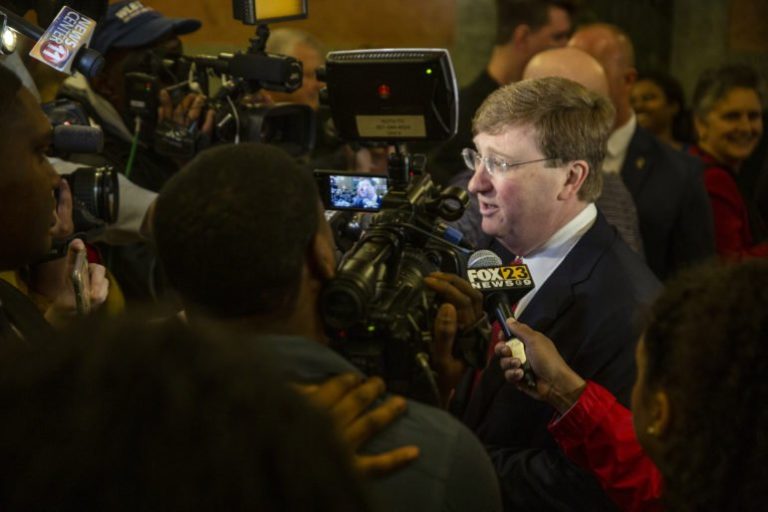 Gov. Tate Reeves, who was photographed last week without a mask at Republican events in Washington, D.C., and North Carolina, announced on Monday he was extending for the statewide mask mandate for two more weeks.
Reeves was photographed not socially distancing and not wearing a mask at events last week in North Carolina, where the Republican National Convention was hosted, and at the White House, where Donald Trump accepted the Republican nomination for president.
"As I said repeatedly, many of us throughout this pandemic have not always worn a mask 100% of the time," Reeves said on Monday, adding "the vast majority of the time" at those events he was wearing a mask. "… I didn't do it 100% of time. And looking back on it, perhaps I should have done it more often."
Reeves, giving his first update on the COVID-19 pandemic in Mississippi since Aug. 25, extended the statewide mask mandate he first imposed in early August. He also extended all other executive orders except for the crowd limits on high school sports and other extracurricular activities.
In that particular instance, he changed the order to limit crowd sizes at high school events to 25% capacity of the venue where the event is being held, as long at the event can accommodate social distancing. The old executive order that he rescinded limited crowds at high school events to two spectators per participant.
The other executive orders, such as limiting crowd sizes to 20 people for outdoor events and to 10 people at indoor events, were also extended for two weeks.
During the hour-long news conference on Monday, Reeves bemoaned that he believes some people try to score political points by pointing out when political leaders do not wear masks. Later, Reeves was asked about the political statement being made when most of the 1,500 people attending the president's acceptance speech were not wearing masks. The event was outdoors, but people were seated shoulder to shoulder.
Reeves said 366 people who attended the president's speech at the White House, including himself, were tested at least once during the previous four days in North Carolina. He said he and others at the event believed the election is important and "we wanted to be there to support him (Trump). We wanted to obviously show our support and that is a decision we made."
People attending speeches by the president have routinely eschewed mask wearing.
But on Monday at his news conference, Reeves insisted the mask mandate is working in Mississippi and urged people to continue to wear one when in crowds.
He said on a seven-day average, the number of cases in Mississippi have been reduced from more than 9,000 three weeks ago to just over 5,000 during the past week. He said the number of hospitalizations and number of people in intensive care units have also been reduced.
"What we are doing in Mississippi is working," Reeves said. "Our numbers are coming down."
He expressed concerns with people letting their guards down during the upcoming Labor Day weekend. Reeves and state Health Officer Thomas Dobbs have cited crowds during Memorial Day and July 4 holidays as having contributed to the large spike in cases the state experienced for much of the summer.
That spike left many hospitals and their intensive care units at near or over capacity. But Reeves stressed Monday those numbers are coming down.
There have been other instances where Reeves has not worn masks in public while mandating or urging his fellow Mississippians to do so. In many of those instances, he conceded that he should have been wearing a mask.
The post Gov. Tate Reeves extends mask mandate despite going maskless at RNC events last week appeared first on Mississippi Today.
Latest posts by Mississippi Today
(see all)