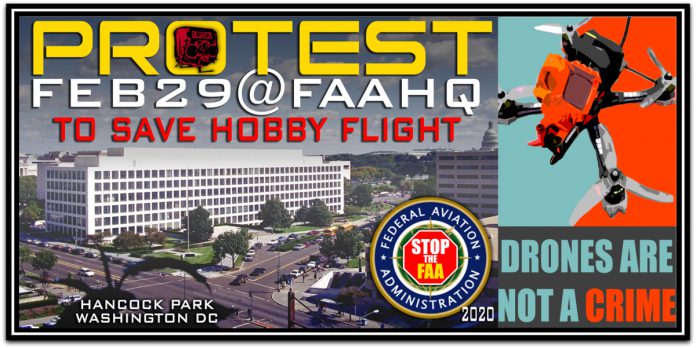 My name is Michael Rhodes with the UFDA CREW. We are a group of FPV drone pilots who make video content using drones, and we use RC technology as our hobby, especially in hobby flight. 
We are protesting the FAA NPRM in Washington, D.C. on February 29, 2020 in Hancock Park. 
Why? What is the FAA NPRM? The NPRM is a rules proposal by the FAA that has come about because they were mandated to secure the airspace for the implementation and integration of Unmanned Arial Systems, primarily delivery drones by Amazon and military contractors.
Current rules require everyone to register their drone and attach a number to it like a license plate if it weighs between 250g up to 55 pounds. If it's a heavier craft, there's a more serious registration process. No flying near airports, or over 400ft (which still leaves 600ft of safe clearance until commercial air traffic).
The rules as they stand work fine, and there are some 1.5million registered drones currently. Even considering RC hobby flight, you are talking about one of the best safety record of any industry. 
Even though many people agree that adding more regulations could make it safer, the regulations that are being proposed ignore almost all cries for being reasonable in exchange for total control of the sky to make way for big corporations.
This new rule being set is meant to establish tracking on everything in the sky over 250g (including models that are under 55 pounds) and down to ONE INCH off the ground.
Communities have popped up all over devoted to RC hobby flight, massive investments into STEM programs, leading to drone racing, photography and videography, and action sports, as well as just family fun.
Aside from that, we have an industry that is evolving at a pace almost unheard of.
I can design a frame, and have it cut while I 3d-print parts to mount on it, and then solder together the equipment like motors and receivers, get it out and tested in a couple days, crash it into a tree, find the flaw, and redesign it in the next few days, testing in my backyard. 
It's truly freeing for me (being limited in my abilities for physical activity) but it's even more amazing when you can watch kids' minds explode as they realize they can build a thing that can fly. BUILD IT!
Within a year of teaching kids about this kind of technology, they can surpass me! It's crazy how they soak everything in and use that to get the things to fly better and better.  
But the NPRM proposal will take all home built or designed craft and ban them from public airspace completely. 
Even a foam airplane you fly with your kid in the backyard will become illegal under these new regulations unless it's flown in a Federal Remote Identification Area (which is like a free speech zone for RC flight), and those will be privately owned.
In addition, the new regulations establish two versions of Remote ID which will be the only way to legally access public airspace. These RID certifications come with other requirements, like the manufacturer of the UAS must be certified by the FAA, all parts must come in a 100% preassembled and tamper-proof kit from a certified parts manufacturer —which effectively bans ALL hobby designed and home built craft. 
Under proposed new regulations, the craft for Standard and Limited RID must also publicly give their location and operator's location, so anyone around them can report them on an FAA app for doing anything they don't like. (We can assume operators will be mugged or swatted with this information being public).
Also, under the proposed new regulations, standard RID will require registration (with a paid fee), the drone will require registration (another paid fee), a data plan must be active and have connection to FAA at all times (yet another fee). 
Limited RID will have the same requirements but can connect to the internet without a cell data plan to report location, as long as it is within wifi range. Limited RID flights will be restricted to an area within 400ft of the operator (kneecapping the technology completely).
Who wins here?  Amazon?
People like my friends and I will be banned from flying and designing RC tech. I won't be able to do what I've done for near 20 years now — design a thing that can fly, and test it in my own backyard.
All the businesses that we rely on for parts and innovation will be crippled.
Access to this technology for STEM programs will dry up because all the small businesses providing that access, education, and the gear will be wiped out. 
DJI or military contractors or a company like them will swoop in and create a market monopoly, as they will be the best positioned to produce legal drones people can use outside of a pay to play prison field.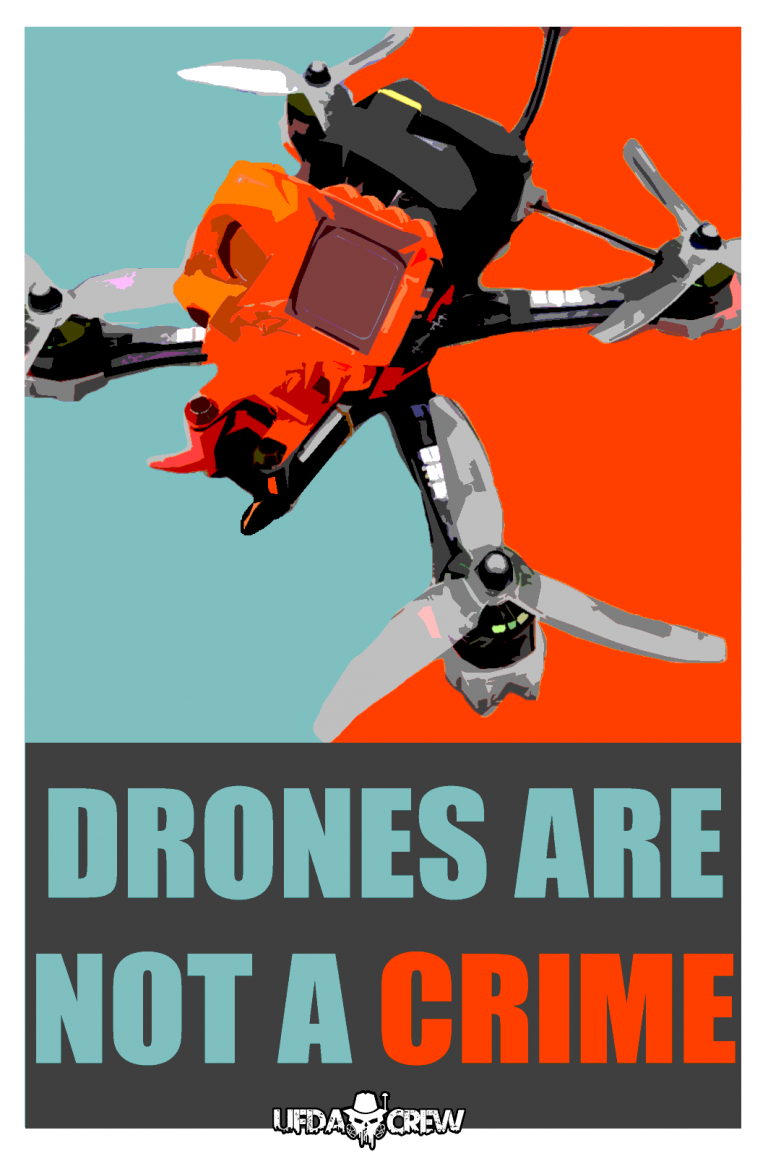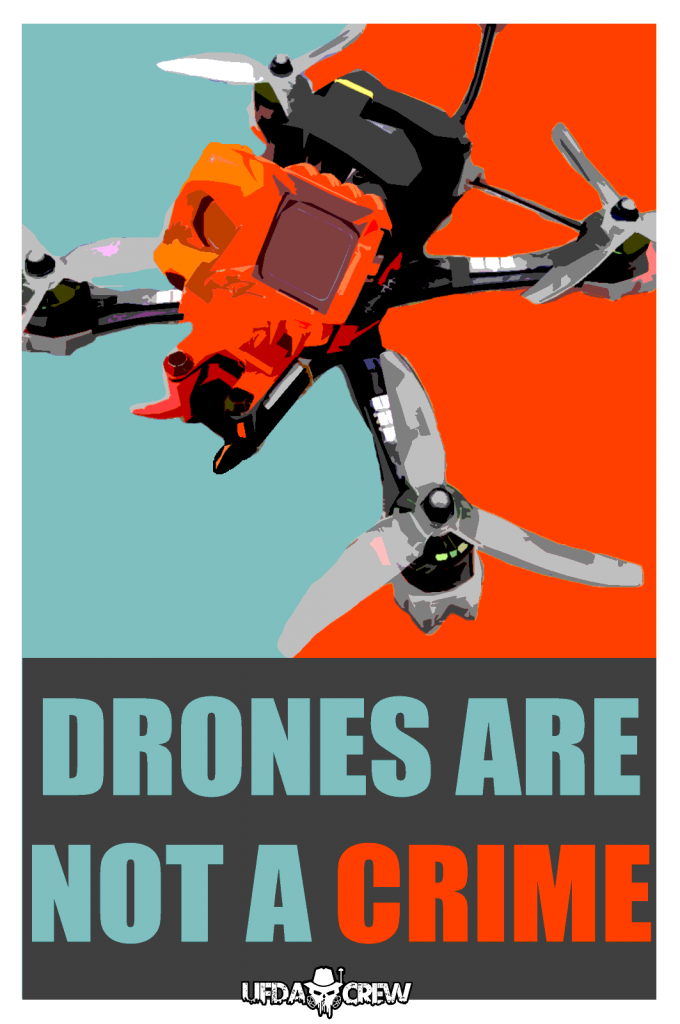 The head of UAS integration from the FAA was recently at CES and also said that once there is a rule set in place to determine bad actors, they will be able to engage them. That to me means that once you are labeled as flying outside a FRIA zone without an RID, you will be deemed a bad actor and can be engaged — you and your drone can be engaged by authorities and fined.
Fines at the moment look to be set at $1,400 up to $30,000 per infraction. A preparation for the criminalization of hobby flight it would seem.
Everyone agrees we want the skies to be safe, and we all want drones and hobby craft to stay out of the way of planes, but this goes way farther than it should.
It's essentially the FAA doing eminent domain of the entire sky. 
I currently have contacted the ACLU and am trying to organize a protest at FAA HQ before the comment period ends on the NRPM.
We (our online drone community) have been making art to bring attention to this issue, pushing information about it into the community and social networks to spread awareness. 
Nobody really knows what to do and the whole industry is scrambling for cover.
That's why we are writing to you, Tupelo, for help.
We need any help we can get to save public access to the airspace — or else we'll lose it all to Amazon delivery drones and sky taxis.
This issue cuts to the very core of me. The best memories of my life were learning I could build something that can fly. I am the person I am today because of the access to that technology and inspiration, and I cannot fathom taking that away from future generations so people can get cheap 1-day delivery junk.
We have an event website finished (www.helpsaveourhobby.com) and a facebook event is already up.  Industry is ready to back us, We are churning out art, have permits submitted and all the logistics covered for tent stage and audio in the park already, now we just need awareness that the FAA is doing a massive power grab of public airspace on behalf of Amazon and Private Military Contractors just in time for the election so nobody sees it happening.
If you would like to know more, you can contact Michael Rhodes of Michael Duhl.
Michael Duhl (ENOK FPV drone pilot handle) UFDA CREW
Email – Galacticneocatastrophism@gmail.com
Phone – 413-775-4028
Michael Rhodes (MIKEOWAR4 drone pilot handle) UFDA CREW
Email – ufda.crew@gmail.com OR mikeofwar4.fpvpilot@gmail.com
Phone – 662-891-1057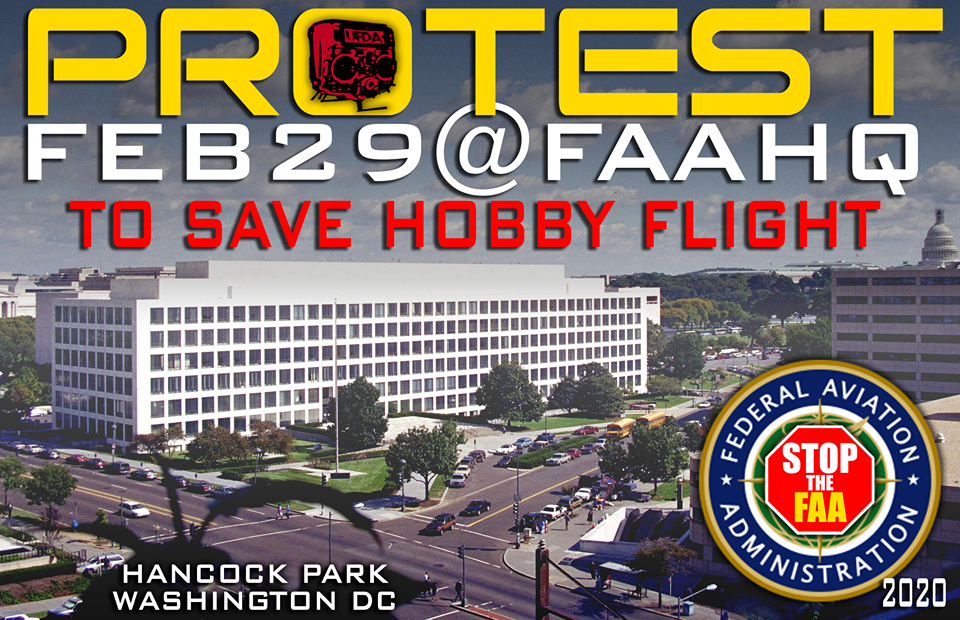 Latest posts by Guest Submission
(see all)