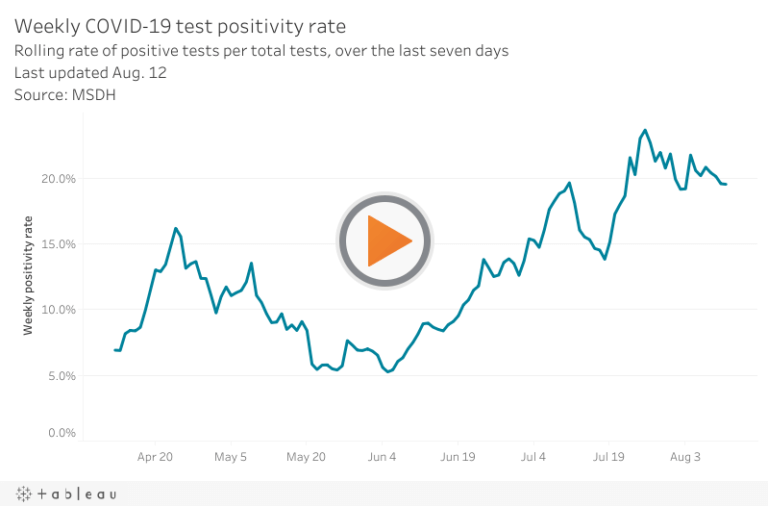 This past week Mississippi's state health department has reported the lowest daily case totals of COVID-19 in about a month, but the state's test positivity rate remains one of the highest in the nation.
The seven-day rolling average for new cases reached 847 on Wednesday, its lowest point since July 15. However, as testing numbers mirrored a similar decrease since the start of August, Mississippi's weekly positivity rate — the number of new cases divided by the number of new tests, over a week's span — has remained roughly the same over the last two weeks, at around 20%.
"We know we had another very good day of numbers today, at least relative to where we had been for the last four or five weeks," Gov. Tate Reeves said in a Tuesday press conference, after the state health department announced 644 new cases that day. "We can celebrate that fact, but we must also realize that the trends will only continue if we do the right things."
As Gov. Reeves mentioned, the seven-day new case average has dropped by over 30% since peaking in late July. The seven-day average for new tests dropped by 21% in that time.
Mississippi ranks sixth among all states in the seven-day average for positivity rates, according to Johns Hopkins University's Coronavirus Resource Center. The state ranks 20th in new tests per 1,000 people.
When asked about the decline in reported tests, State Health Officer Thomas Dobbs said that Mississippians often only get tested when they experience symptoms.
"A lot of people in Mississippi don't have a primary care doctor, and a lot of people don't get care unless they're sick," Dobbs said. "So the high testing numbers a lot of the time reflect the number of people who are ill and symptomatic.
"So I think it's a good sign to see the decline in testing demand, that'll also help with the private lab capacity and their ability to get faster results."
Dobbs added that the state doesn't have a set target for the number of new tests, instead focusing on maximizing tests in highly impacted communities. For instance in Holmes County, which has the highest case rate per capita in the state, MSDH tested over 500 people this past weekend in Lexington, or roughly a quarter of the city's population.
Regionally, counties in Central Mississippi and the Delta continue to have the highest rates of COVID-19 in the state, although some counties in the southern third of the state, especially Claiborne and Wayne counties, also rank highly.
Hospitalizations from the disease have slowed, as the seven-day rolling average has decreased for ten straight days, although patients in ICUs and using ventilators have increased in recent days.
As of Monday, Mississippi ranked third in new cases per capita, according to the Harvard Global Health Institute's tracker.
The post Mississippi's COVID-19 cases fall in last week, but positivity rate remains high appeared first on Mississippi Today.
Latest posts by Mississippi Today
(see all)