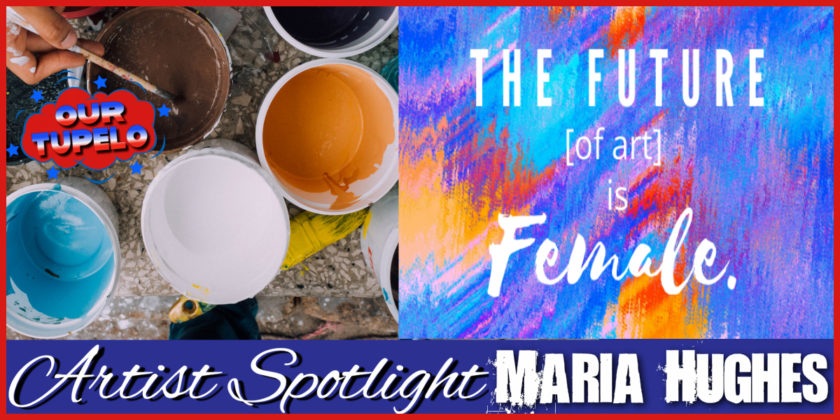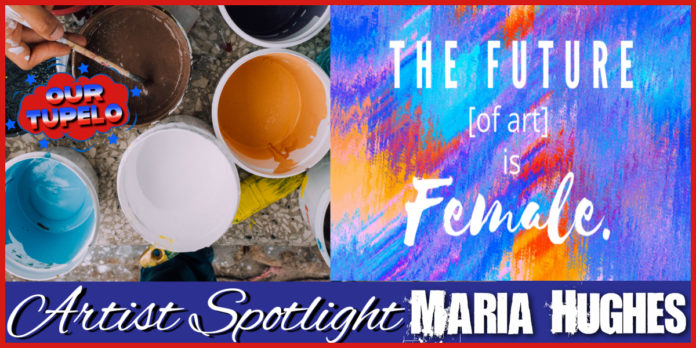 Twelve years ago, Maria Hughes bought several giant tubes of paint along with a few other art supplies and went to work. Since then, she's become one of North Mississippi's most renowned artists, earning a slew of accolades — including having her work chosen to be part of the welcome package given to the President of Toyota when the automobile company first came to town. She's also a Caron Gallery artist who has hosted the gallery's popular Art and Wine dinners and has been featured in the gallery's art subscription box. Her piece "Wheeler, MS" was recently accepted to be part of the 46th Annual Bi-State Exhibition at the Meridian Museum of Art. In addition, she's been featured in Mississippi publications Mud and Magnolia and Portico.
Maria didn't just up and decide to become an artist one day twelve years ago, but it is when she gave in to her true calling. Art is as deeply ingrained in Maria's veins as her Mississippi roots. She's the only daughter of the late Michael Tucci, a photographer and frame designer, and Judy Tucci, a retired NEMCC art teacher and artist whose work is also well-known and much-loved in the Mississippi art scene. Though Maria did follow her mother's footsteps by majoring in art and becoming an art teacher for Booneville School District, it wasn't until she became a mom that she knew she was ready to start forging her own path as an artist.
As an only child, Maria spent quite a bit of her childhood entertaining herself, and she did most of that entertaining just like the rest of us Mississippi kids did back in the days before cell phones, tablets, and gaming systems ruled the day. She spent her days playing in the dirt and rocks under the beat of that Mississippi sunshine that only we natives truly appreciate. Front porches, sweet tea, and the cool waters of Okeelala Creek brought Maria relief from the summer heat. Maria is a Mississippi girl through and through, and her love for this area is evident in all of her artwork — be it landscapes, abstracts, or pottery.
Now that you know a bit about Maria's background, let's get down to the nitty-gritty. I chose Maria to be the first featured artist in this column because, in my most humble opinion, she is the kind of strong and courageous Southern woman we girls should all aim to emulate. Although she is an incredible artist whose name I firmly believe will one day be synonymous with the likes of other famous Mississippi artists, she's also my friend and one of my most favorite people on the planet. She's been a lifelong friend of my husband, and I've admired her since the day he introduced us around eleven years ago.
If I sound gushy, it's because Maria is one of those friends who inspires everyone around her to be better. In fact, I would say that encouragement is one of those secret talents Maria probably doesn't realize she has but is profoundly good at. Her encouragement is kind and gentle when needed, but also firm and matter-of-fact when the time calls for it. She's also adventurous, brave, and a whole lot of fun to be around. When I say she's strong, I mean that literally. A couple of summers back, she was with us on our pontoon at Pickwick when our battery died on our way back to Mill Creek. We were somewhere around Bear Creek when it happened and could see the docks in the distance. We had a trolling motor so technically we were gonna be okay, but man, it was taking so long to get there, so Maria and our friend Drew formed a plan. They grabbed some rope and jumped in the water, and y'all, those two nuts started swimming the boat back to the docks. Luckily for all of us, but especially for Maria and Drew and their backs the next day, some fishermen spotted us and kindly hauled us back safely.
The Day the Boat Stood Still is one of my favorite recent Maria stories, but anyone who knows her has an equally fun tale to share. I think her sense of fun and adventure are as evident in her artwork as her love for this beautiful state, and that is part of what makes her work so appealing.
Maria could take her work and sell it just about anywhere I believe, but luckily for us locals, she wants to keep sharing her artwork right here in Mississippi, particularly Tupelo and Northeast Mississippi. When asked why she chose Tupelo as her art scene over other popular cultural hotspots like New Albany or Corinth, she says it's simply her love and deep roots to our micropolitan that made her decision an easy choice. During her teen years, she was a mall kid who worked in restaurants and retail in and around Barnes Crossing. She lived here for a time during her early adult years before returning to Baldwyn to get married and start a family, so really, Tupelo was a natural choice.
One of the reasons Maria has found success as a Mississippi artist is because she is remarkably driven. When she sets goals, she doesn't stop until she's reached them. It's part of what keeps her growing and evolving as an artist. This year, she set a goal to enter more competitions and it's one she's already accomplishing. Her piece "Wheeler, MS" has been selected to be part of the 46th Annual Bi-State Exhibition at the Meridian Museum of Art.
It's safe to say that Maria's first decade pursuing an art career has been a success, and if it's any indication of what's to come, Hughes has one extraordinary future in store. The future of Mississippi art is female, y'all, and Maria Hughes is paving the way for that future for herself and female artists of all ages here in Mississippi. As an artist, she inspires other women around her to pursue their own arts, and as a teacher and mother, she's inspiring future artists — her own young daughter included — to follow their dreams.
Want to see more of Maria's art? You can follow her on Instagram, visit her website, or visit her at the Caron Gallery's website, where you can also shop her art right from your phone, tablet, or computer.
---
Are you a local female artist, creator, writer, or maker? I want to feature you in the next "The Future [of art] is Female column. Reach out to me on Facebook or by email at telina_johnson@hotmail.com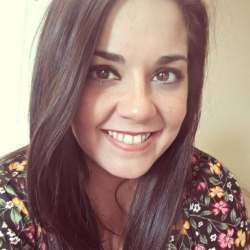 Latest posts by Telina Knight Johnson
(see all)