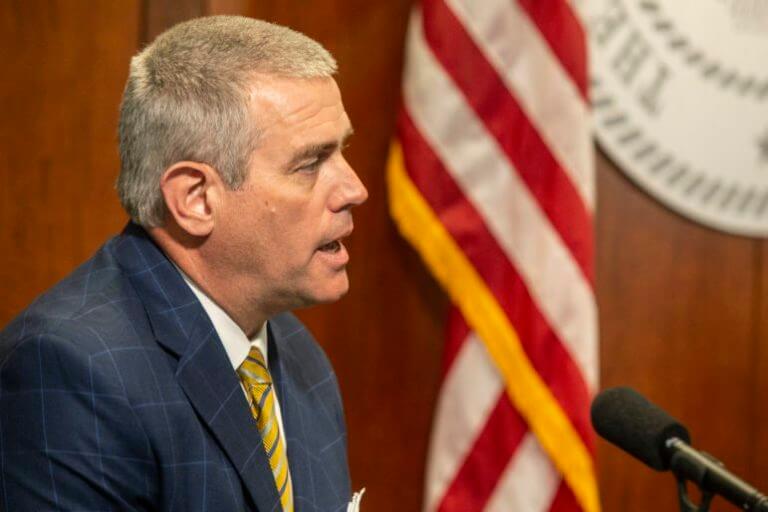 The Mississippi Legislature, as it did in July, left Jackson on Tuesday without passing a Department of Marine Resources budget, remaining at loggerheads over Gov. Tate Reeves' spending authority.
"We believe it's not right for one person to have $40 million to pass out like he wants to, no matter who that person is," House Speaker Philip Gunn said Tuesday.
Lawmakers, for now, adjourned what has been an on-again, off-again 2020 session since January because of the COVID-19 pandemic and an outbreak among legislators.
DMR's budget, which includes only $1.4 million in state general funds, is not at issue. But spending control of about $46 million in Gulf of Mexico Energy Security Act money is. GOMESA is a revenue sharing program for offshore oil and gas producing states in the Gulf.
Since its inception in 2006, then-Mississippi Govs. Haley Barbour and Phil Bryant controlled approval of GOMESA projects vetted by DMR as the revenue started out small but continued to grow.
In recent years, lawmakers and others have questioned whether projects chosen are helping coastal restoration and protection, or if they are just pet political projects.
Millions in GOMESA funds have been granted to build boardwalks near casinos, a planned aquarium in Gulfport — including a tram system threatened to be "de-obligated" for not meeting GOMESA requirements — and other projects critics have said don't meet the intended purpose.
This year, House lawmakers wanted to include legislative oversight of GOMESA spending in DMR's budget, saying the Legislature, not the governor, controls state purse strings. Reeves has called the move a "power grab" and said he should continue to control the money as his predecessors did. Coast lawmakers have been divided over the issue.
The Senate, over which Reeves presided for eight years as lieutenant governor, has balked at stripping the GOMESA spending authority from Reeves.
Lawmakers set the rest of a $6 billion budget and left town July 1 still at an impasse over the DMR budget. They had plans to return within a week and haggle out DMR's budget, but a COVID-19 outbreak at the Capitol infected 49 legislators and had the Capitol shut down for weeks.
Lawmakers had reconvened on Monday, in large part to override Reeves' veto of most of the public education budget. Lawmakers successfully squashed his veto, the first time since 2002 the Legislature has overriden a governor's veto. Gunn last week also sued fellow Republican Reeves over his partial vetoes of education and federal COVID-19 health care spending, saying the governor is overstepping his constitutional bounds.
While two-thirds of the House and Senate voted to override Reeves' education veto, the House and Senate remained at odds over the GOMESA spending.
DMR, charged in part with marine law enforcement, has continued to operate using federal funds, which make up a large part of its operational budget. But that cannot continue indefinitely, and some DMR employees missed some pay during a temporary furlough in July.
House and Senate negotiations continued late into the night on Monday on the DMR issue, but to no avail.
Gunn said the House offered the Senate and governor three compromise options:
Passing a DMR budget and put the GOMESA funding "on the shelf" until lawmakers return in January and can further negotiate.
Allow $26 million already earmarked for specific projects — also a source of contention with House leaders — to be spent as planned and shelf the remaining $20 million for now.
Have the governor provide a list of GOMESA for legislative approval, allowing for "checks and balances."
Gunn said all these proposals were flatly "rejected."
Senate leaders, in turn, offered to form a legislative advisory committee to make recommendations on the spending and projects.
"It would have three members chosen by House, three from the Senate, working with DMR vetting projects," said Sen. Philip Moran, R-Kiln, chairman of Ports and Marine Resources. "The House just didn't want to accept anything … (Governor's control) has been this way since its inception in 2006. Why all of a sudden do you want to change it now? It has worked well. Our proposal for the advisory committee would have made it even better."
Rep. John Read, R-Gautier, chairman of Appropriations, said the House tried to compromise.
"Outside of just turning money a-loose with no projects specified, we did everything we could," Read said.
Amid the fight over Reeves' line-item vetoes, DMR and other matters this week, Gunn indicated there is a larger, overarching issue between Republican legislative leaders and the Republican governor.
"Only the Legislature can spend dollars," Gunn said. "We don't have government by one man. We are not going to allow the governor to spend money. That is not what the law says."
Reeves, who has the authority to order the Legislature back into special session, has indicated he might call such a session for DMR, but has said recently he was reluctant to do so because of the COVID-19 outbreak among lawmakers. Otherwise, the Legislature is set to reconvene in early October.
The post During another spending fight with Gov. Reeves, lawmakers leave without passing DMR budget appeared first on Mississippi Today.
Latest posts by Mississippi Today
(see all)