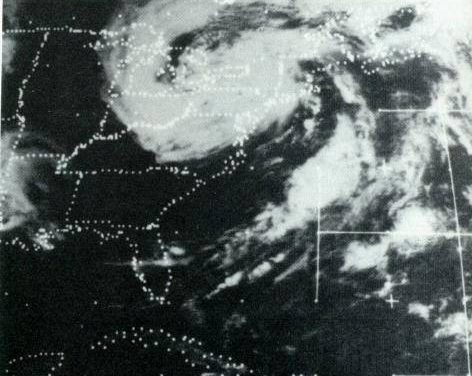 Hurricane Lane, currently bearing down on Hawaii, is rightfully grabbing the weather headlines and reminded me that I promised to write a blog entry about weather – hopefully to become a regular feature on OurTupelo.com.
My own experience with hurricanes takes me all the way back to before I even have memories. I was born in 1970 in Harrisburg, PA – my first home was just blocks from the Susquehanna River. The slow-moving remnants of 1972's Hurricane Agnes dropped 15 inches of rainfall on Harrisburg from June 20 through June 24, 1972 (https://www.weather.gov/ctp/Agnes), flooded the first floor of the Governor's Mansion (also just blocks away from our home on Logan Street) and forced my parents to evacuate and stay with family in New England.
It is tough to wrap my mind around the potential of the 30 to 40 inches of localized rainfall that will fall across parts of the Hawaiian Islands as a result of Lane's similar slow motion.
Long after my experience with Agnes, I wound up studying meteorology (my master's degree is from Penn State University) and making a career of it (6 years as a TV weatherman and 4 years as assistant weather editor at USA TODAY). I was relatively new at the paper in 2005 when Hurricane Katrina (which made its first landfall in South Florida on August 25 and its second devastating landfall along the Louisiana and Mississippi Gulf Coasts) grabbed national headlines.
A few years later in 2008, with Hurricane Gustav (https://www.nhc.noaa.gov/data/tcr/AL072008_Gustav.pdf) churning in the Gulf and bearing down on New Orleans, I was assigned to cover the storm (https://usatoday30.usatoday.com/news/nation/2008-08-31-gustav-sunday_N.htm). The day I arrived in New Orleans, I attended a press conference in which the city's mayor, Ray Nagin, determined to prevent the chaos that occurred during Katrina, said the following, "Tonight you need to be scared; you need to get out of New Orleans now."
It was a surreal experience driving my rental car through the deserted streets of the French Quarter. The one hotel that was still operating housed mostly journalists and armed private security guards hired by banks downtown. One restaurant remained open in the French Quarter and most grocery stores were closed. Looking back, I realize that I was woefully underprepared had the storm made a direct hit on the city. Fortunately, the storm jogged to the west and produced minimal damage for New Orleans, making landfall near Cocodrie, Louisiana on Sept. 1.
Whether fleeing Agnes with my family or making the choice to cover Gustav, I've always been fortunate to have a place to go in the face of these storms – evacuation was always be a possibility. Riding out a storm has got to have a different feel on an island – whether it be Puerto Rico during last year's Hurricane Maria or the current situation in Hawaii — especially for those living in flood-prone areas and unable to evacuate to safer locales. The danger simply cannot be overstated and perhaps the wording in the forecast discussion from the Central Pacific Hurricane Center says it all – "Excessive rainfall associated with this slow moving hurricane will continue to impact the Hawaiian Islands into the weekend, leading to catastrophic and life-threatening flash flooding and landslides." Here's hoping that loss of life and damage to property can be held to a minimum.
Do you have some experiences with hurricanes or other tropical weather to share? Feel free to comment.
Latest posts by bob.swanson
(see all)