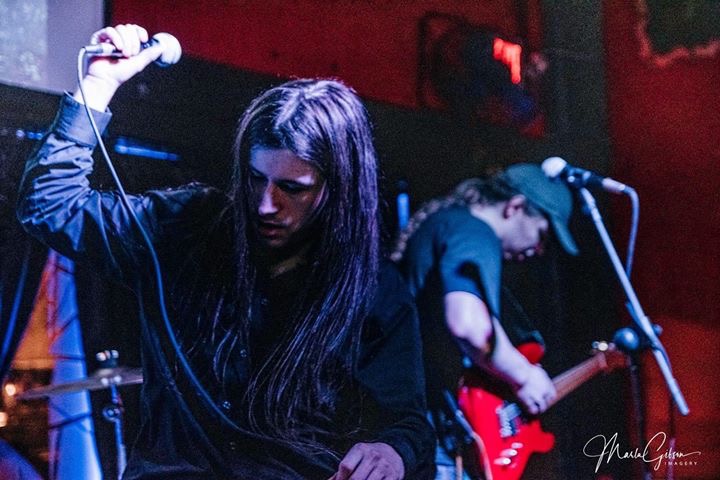 "It Factor" : Something super critical when it comes to musicians trying to make it big, and it is something that this band has in spades. They ooze Charisma and "Rockstardom." I have been following this band for a while now and it has been a real privilege watching them from early beginnings to where they are now.
When I first saw them at Romie's Grocery almost a year ago, I really wasn't expecting much. There was almost no one on the back patio to see them play, just a few people who were obviously friends with the band. But when they stepped on that stage, the entire atmosphere changed on the patio — it became vibrant and energetic. I was floored!
There were four young men jamming out to music that I grew up with, music that I cherished and adored, and they were killing it. I instantly became a fan and I have been following them ever since. Now when you see them play at The Thirsty Devil or Romie's Grocery, it quickly becomes standing room only. The word has certainly started to spread around town about these talented musicians.
Critical Hour consists of Trey Chadwick, Keaton Barkstrom, Cody Barnes, and Nik Barkstrom. Currently, they are playing in the Tupelo area as a rock cover band, but they are currently working on cutting their first full-length album of original music. They cover a wide range of rock music that spans several decades. Everything from Led Zeppelin to ZZ Top, Foo Fighters to Stone Temple Pilots, Panic at the Disco to Highly Suspect, and many others.
These guys are super talented and they always put on a great show. The energy they put out is amazing and you can tell that they really enjoy rocking out with the crowd. One of the things I most admire about them is that when they take a break they actually go out among the crowd and introduce themselves. It has been rather amazing to watch as they make not only new fans but new friends as well.
I could tell you how they have some pretty deep roots in the North Mississippi music scene. Trey's father, Jerry, is the bassist for Full Tilt and was also associated with another well-known cover band here called the Spunk Monkees. Cody's dad was also in a band called Hired Gun. I really did think about going into that in depth in this article, but I won't. I really think that even with all the musical roots that these guys have, that their own music and performances speak for itself. They do not need any name-dropping to highlight what they do so well that is consistently getting them booked at local venues in the area. If you haven't made a point to go see them play you are certainly missing out.
I sent the guys some questions to do a Q&A session with them. Here are 16 questions with Critical Hour.
Marla: What is the origin of the name Critical Hour?
CH: We used the name from Trey's old band from around 2007 or 2008. There's not really any significance behind it, we just thought it sounded cool so we stuck with it.
Marla: Please list the name, age, location and respective instruments of each band member.
CH: Cody Barnes, 24, Pontotoc, Mississippi, Drums.
Trey Chadwick, 22, Blue Springs, Mississippi, Bass/Lead Vocals.
Nik Barkstrom, 21, New Albany, Mississippi, Keyboards/Guitar/Bass.
Keaton Barkstrom, 23, New Albany, Mississippi, Guitar/Backing Vocals.
Marla: What genre of music do you consider your original work to be? What are your major influences?
CH: Post-hardcore/Experimental Rock. Some bands that influenced our sound would be: Scary Kids Scaring Kids, Enter Shikari, Silverstein, Linkin Park, and Chiodos.
Marla: How long have you all known each other and where did you meet?
CH: Trey and Nik met through mutual friends in 2011. From there, the band was initially formed in March 2013. Later that year, we shared a stage with Cody while he was playing with his former band, Of The Coast. In 2014, we started writing and trying to record an album of original songs, which we are only just now finishing up with the help of a producer, Kevin Langley, at All In Recordings, based out of Alabama.
Marla: When did you form your band? What inspired you to make music together?
CH: We started playing covers with Cody in June 2017, which is how the 4 of us started playing together. Music has always played a big role in our lives, so it just kind of happened.
Marla: Which songs do you cover most frequently? Do you have a set playlist for each show?
CH: We will occasionally make a set list so that we can keep the downtime to a minimum, but usually we like to play what it seems like the crowd is feeling, so even when we do make a set list, we often times switch songs out for others on the spot if we feel like it fits the atmosphere better. The songs that we cover most frequently would probably be a range of classic hard-hitting classic rock songs and a few more popular modern songs to try to appeal to a wide age range.
Marla: What are your rehearsals generally like? Do you have a set time each week that you practice or are rehearsals more spontaneous?
CH: We practice according to everyone's schedule and availability. Usually about once or twice a week. Rehearsals are mostly a mix of jamming and practicing songs to play at upcoming gigs.
Marla: How has your music evolved since you first started playing together?
CH: Well, we really first started just by jamming and feeling out a sound for ourselves, first as more of a Hard Rock sound, then getting more experimental with different synth sounds, heavier riffs, and different vocal styles. Then as composition came, a more articulated sound came through, mapping it out on music software, until we felt like we had something solid.
Marla: What do you do outside of music that contributes to your musicality?
CH: It's different for each of us in some ways, though we definitely share some interests. Trey, for instance, enjoys cooking, which he does for work. Reading can be a source of creativity. Pretty much all of the lyrics of our original songs are based on the stories of characters from books or movies. Going to see movies is really energizing as well.
Marla: Do you have a formal music education or were you self-taught?
CH: Between 7th grade and junior year of high school, Trey was in choir, which emphasized proper vowel shaping and other projection techniques. The rest of us were all self-taught. Growing up, Cody's dad was a drummer, so he always had a drum kit around whenever he wanted to play and other drummers who were friends of his dad would show him things. Nik started first with piano and moved on to synthesizers, which opened up a wider space for experimenting and learning about, then incorporated guitar later. Keaton started with guitar and moved on to learning more about music theory and composition.
Marla: What are you working on right now as a band?
CH: Right now, we are mostly working on finishing up our first album. Outside of that, we are also trying to build up a large enough repertoire of covers to give a different performance for whatever kind of crowd we are playing to.
Marla: How do you feel about the internet in the music business?
CH: With a virtually free way to globally market anything today, it is the dawning of the independent artist. But since everyone now has a voice, oversaturation could definitely be an issue. So, now artists not only have to have a unique product but also almost have to be as much of a marketer as a musician. It's definitely a good thing in the end because record label domination doesn't have to dictate what is listened to.
Marla: How would you describe and rate the current music scene in Tupelo right now?
CH: There is definitely a lot of talent to be seen in Tupelo and it seems like the music scene is slowly growing. We've personally seen more and more people showing up to our shows in Tupelo than when we first started.
Marla: What is next for Critical Hour?
CH: With the release of this album, we will be looking to do more original shows, maybe opening for touring acts. We have also been thinking about going under a different name for our original music and continuing our covers with the name Critical Hour, either way, we still look forward to playing more cover shows as well as debuting these originals that we've been working on for a long time.
Marla: Please recommend 2 artists to our readers, which you feel deserve their attention, either local or national.
CH: We'd say
Full Tilt
and
Magnolia Cult
. They are both talented local bands and if you haven't seen them yet, you are missing out.
Marla: Is there anyone you would like to acknowledge or thank for helping you achieve your current level of success?
CH: We definitely want to thank the local venues of Tupelo, particularly Romie's Grocery and The Thirsty Devil, for giving us the opportunity to play there. Also, a big thanks to our friends and family for coming out and having a good time with us.
Check them out! Support Local Music!
---
Interested in seeing your own artist profile highlighted here on Our Tupelo?
Simply click HERE and fill out our form!
Latest posts by marla.gibson
(see all)