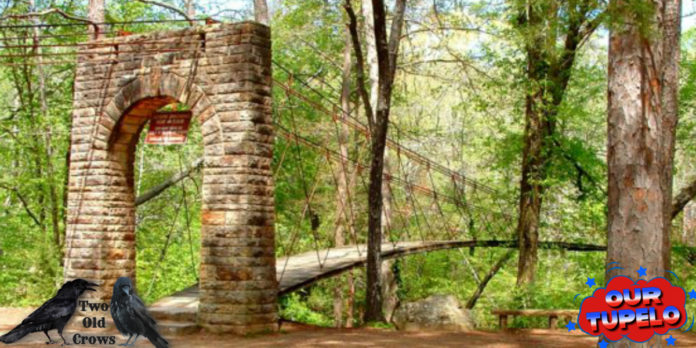 My husband and I lived in Tupelo for five years before making the trek up to Tishomingo State Park. I wonder how many of you have made the journey? If you have, you know firsthand of its natural splendor. If you have not yet ventured there, it's time for a road trip.
Tishomingo State Park is just a short 51 minutes from Tupelo via the Natchez Trace. On the way there, be ready to be awed by some of the wildlife and flora and fauna, and be sure to stop at some of the landmarks along the way. There is so much to see and learn!
Our first stop was the Pharr Indian Mounds located at milepost 286.7. It is listed as the largest and most important archaeological site in North Mississippi. As you look out over the land, you will see eight large dome-shaped burial mounds. The mounds cover an area about the size of 100 football fields. Of course, we did not venture out to the actual mounds, as we were unsure if it was legal to do so. Other than the mounds themselves, we caught a glimpse of something astonishing; literally hundreds of dragonflies!
I am a dragonfly person. In fact, I like them so much, I had one tattooed on my wrist on my 50th birthday. Why would a woman now classified as an 'antique' do that soberly and intentionally? Well, as I've mentioned before, I have a slight Native American heritage, and dragonflies hold a special place in this culture. You see, Native Americans believe that dragonflies carry the souls of the dearly departed. They believe their loved ones' souls are sent back to Earth in the form of dragonflies to let the ones left behind know that all is well; a gift from the Great Spirit.
When we walked from the car to the pavilion and were suddenly surrounded by a mass of dragonflies, I smiled, knowing that all of those buried in the mounds must certainly be at peace. When I long for those who are no longer with me, I glance down at my wrist and it reminds me that indeed, all is well. So, being literally covered by those hundreds of dragonflies meant a lot to me.
Be sure and stop by the mounds. Perhaps you too will have an opportunity to see the beautiful dragonflies. What a glorious spectacle!
Once inside Tishomingo State Park, we stopped at the rustic restored cabin situated near the main entrance. My grandchildren loved looking through the wide cracks in the floor discussing all of the creatures that might climb up and visit should they ever get to spend the night.
Behind the cabin is a short trail that loops around to an old pond. There are huge boulders, a small bridge, and rich and abundant forest greens, making this a perfect and picturesque stop for family photos.
Driving a bit further, you pass rental cabins, and a swimming pool that both overnight campers and day visitors may utilize for a small fee. The park is also home to an RV campground, one rental cottage, and primitive camping sites.
Inside, you will also find massive rock formations that require a helmet to climb, rocks that anyone can maneuver, canoes to rent, and trails to explore. Picnic areas come complete with tables and grills. A disk golf course and a volleyball court are also available.
On the day we visited the park, our day consisted of simply hiking the trails. Well, maybe 'simply' is not the word I am looking for here. Some of the trails, I found, will leave you quite breathless, but they are nicely cleared and marked, making it possible for even a rookie level hiker to safely complete the trails. You will want to be sure to pack multiple bottles of water and a few snacks. There are no concession stands or indoor restrooms on the trails!
The trails are filled with nature's bounty. A fresh-water spring flows from a man-made rock formation. The water is clear and icy cold; a great place to take a break and cool off. The natural rock ledges, the hollows, waterfall, small creeks, the river, wildlife, and fern-spotted grounds appeal to the young and young-at-heart.
Tishomingo State Park offers an unlimited supply of beauty, budget-friendly activities and adventure — whether you stay for a day or for a week. On a one-to-ten scale, our grandchildren ranked it at the top of the list.
What are you waiting for?
Go!
Explore!
Happy hiking, y'all!
Tishomingo State Park is located at 105 CR 90 in Tishomingo, Mississippi. Please check their website or call for prices, special events, and area attractions. 662-438-6914.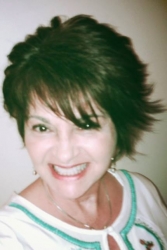 Latest posts by Wanda Anderson Pearson
(see all)