Genre: Country-Blues Fusion
Raised in Okolona in north Mississippi, Kevin Thornton taught himself to play the guitar. He started songwriting around 18, which lead him to learn guitar. He will be recording his third album at Tweed Studios in Oxford.
If you had to describe yourself, what would you say?
I write songs; some are hippie licks, some are rocking, and some are just plain ole country and blues. I was raised on cornbread and shotguns. I taught myself how to play guitar, and have my own style of beating on the guitar to have percussion. I live to make music.
Who or what would you say has been the greatest influence on your music?
I think just growing up in Mississippi lends itself to shaping and cultivating folks musically. There is a reason why our road signs say "Birthplace of America's Music." I think it is our accent and dialect, which often rounds off and shortens words, that helps with songwriting and singing in general, This corruption of words makes it a lot hell of a lot easier to create rhyme schemes.
Waylon Jennings and Howlin Wolf are two huge influences on my singing style, but lyrically everyone from Too Short to Bob Dylan have had an impact on me. And I will mix song lyrics together in a second. One of my more interesting pieces is a hip hop Fusion of Merle Haggard, Nelly, and my own stuff thrown in.
Favorite song you've composed and the story behind it?
The song is called "Change." The story? Well, one evening there was a lot going on at my house. People coming and going, and just a bunch of overall mischief. I was sitting in my living room, playing the kazoo and guitar while an old acquaintance of mine ate chicken breast, (bone and all!), while he sat there on the floor ranting about how good the chicken was. It was at this point that I realized that maybe it was time for a "change." And the song was born nearly fully formed right then and there.
If you could meet any artist, living or dead, which would you choose and why?
i would have to say if given the opportunity i'd like to meet Mississippi's own Mr. Fred Mcdowell. That dude was an alien or something. I thought Hendrix could play guitar, but he's nothing compared the unearthly skills of Mr Fred Mcdowell. Also Linda Lovelace.
Most embarrassing thing ever to happen at a gig?
Nothing comes to mind as far as true embarrassment, but I was once asked by a bar manager to stop playing because someone wanted to hear "Roller Coaster of Love" on the jukebox. And I've played empty gigs for 3 out of 4 hours before, but I have learned you gotta perform like there is a full house anyway or the stragglers that do come in will not stay at a dead and quite bar.
What was the most significant thing to happen to you in the course of your music?
I met my wife Sommer, while playing at the old Boondocks in Tupelo. Now THERE was a place and a scene. Scott Chism was running open mics and doing the all booking. The Bad Hand came out of there, Vinyl Dust, Vinnie C, Jon West… It was quite a time and a unique place for Tupelo. It truly was a golden age musically at Boondocks.
I started writing better songs, and I'm still striving to be myself on stage and just let it all hang out there. I won the Miss 98 "Smoking the Stage" songwriting contest a few years ago.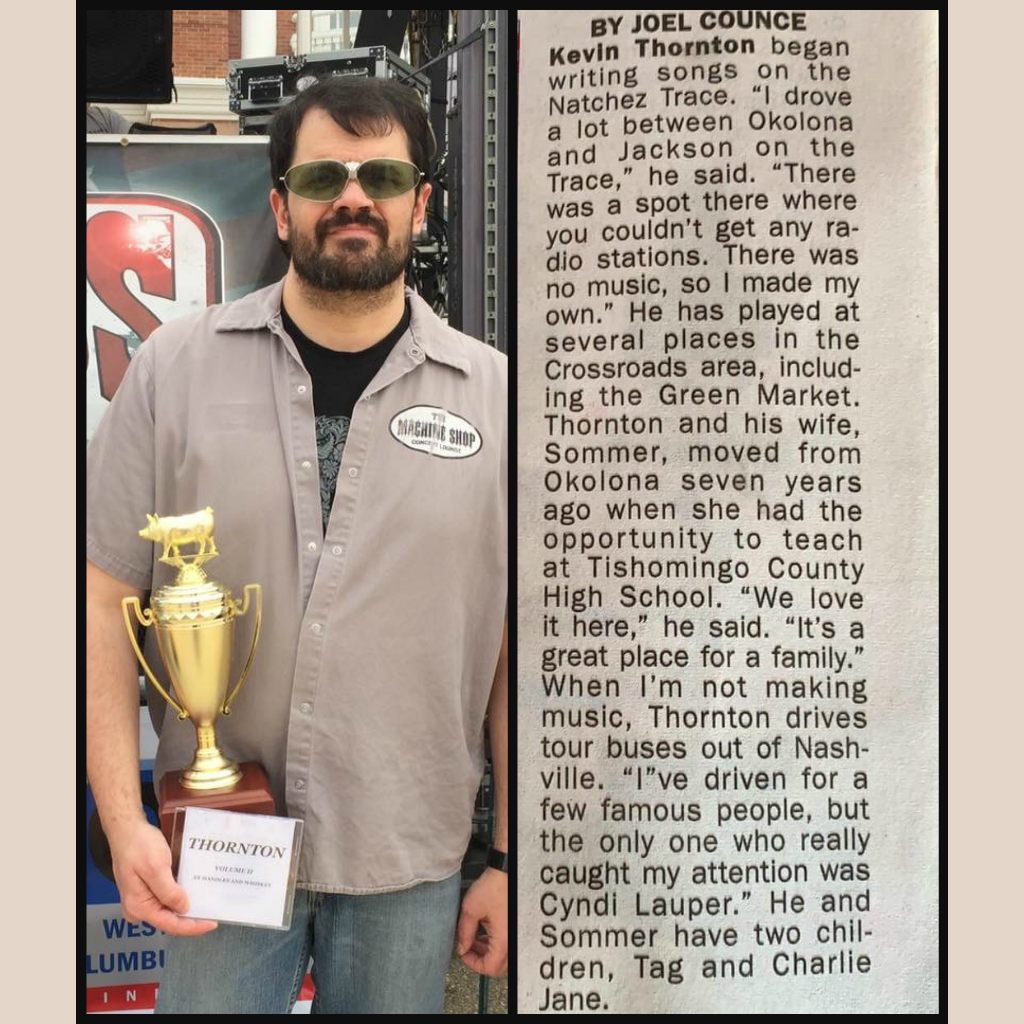 If music were not part of your life, what else would you prefer to be doing?
Writing. I wrote a 100,000 word novel that has been sitting in my desk for years now. I have been meaning to get back on it, but I am lazy like that. I really just wanted to write a novel, but I doubt if even 10 people have ever read it. But music will always be my outlet.
Do you have any recommendations for other local artists that our readers should know about?
John West and Vinnie C
---
Interested in seeing your own artist profile highlighted here on Our Tupelo?
Simply click HERE and fill out our form!
Latest posts by MyLove Barnett
(see all)