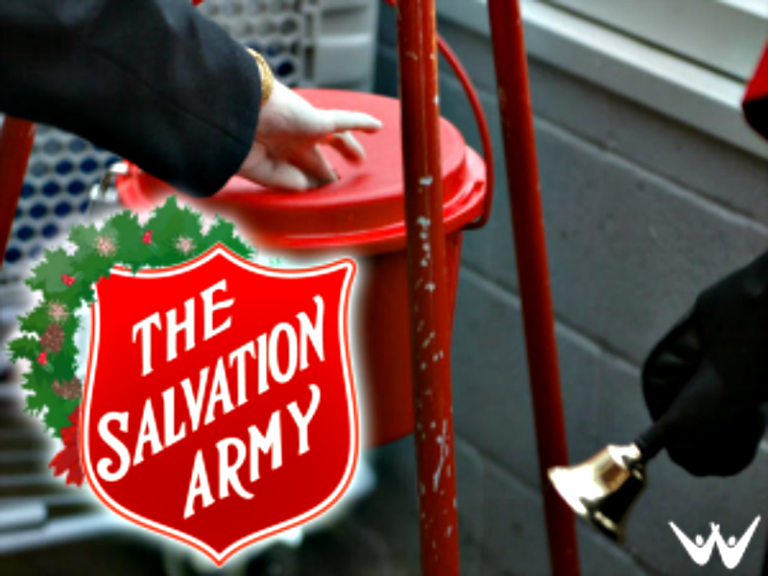 One of the country's oldest donation campaigns is going digital.
The Salvation Army's Red Kettle campaign, a fixture of the Christmas shopping season, will now give people the option to donate using their smartphones.
The Salvation Army has placed smart chips and QR codes on Red Kettle signs across the country, allowing shoppers to "bump" or scan their phones to make a digital donation, said spokeswoman Ava Henderson. The Salvation Army has dubbed the collection process "Kettle Pay." All 25,000 donation spots will be outfitted with the technology, and the organization will also continue to accept cash.
"Kettle Pay will be on the signs that accompany all of the kettles and kettle bell ringers," she said.
Shoppers will be directed to a custom donation page that accepts Apple Pay or Google Pay options. The funds will then be distributed to local Salvation Army units based on the donor's billing ZIP code, and an email receipt will be sent directly to their phone.
"Kettle Pay makes it even easier for donors to join the Salvation Army's fight for good," said Maj. Raphael Jackson, a division commander.
Now in its 129th year, the Red Kettle campaign is one of the oldest and largest charitable campaigns in the world. Every year, the campaign raises millions of dollars for the Salvation Army's charitable programs.
The Salvation Army wants to capitalize on digital payments as waning foot traffic in brick-and-mortar stores diminishes its holiday fundraising, which historically has relied on shoppers dropping their spare change into the charitable organization's signature red kettles. 
"We are becoming increasingly cashless, and many people in the past would come by our kettles and say, 'I have no way to give because I don't have cash on me,'" said national spokesman Dale Bannon. "When you bump or scan your phone, you can make a customizable online donation. We think this will be a good service for people who want a variety of payment options," he said.
Its goal is to make it as as easy as possible for everyone to contribute, as cash donations have plateaued in recent years.  
"We believe offering an easy pay option will help us achieve our goal so we can serve 23 million people," Bannon said. If around 5% of all donations came in via Kettle Pay, that would be "a win" for the organization, he added.
 "The iconic bells and red kettles aren't going to disappear any time soon — we're just making it easier and more convenient for the community to donate," said Major Glen Caddy, another divisional commander. "Hopefully, it's a win-win for both donors and The Salvation Army as together we continue to fight for good."
"Kettle Pay makes it even easier for donors to join The Salvation Army's Fight for Good! It provides an opportunity for people to fight for the millions of Americans experiencing poverty by raising money for Salvation Army programs in their communities, including food for the hungry, shelter for the homeless, and Christmas assistance for families in need," said Major Donald Tekautz.
The charitable campaign is one of the largest in the world, with donations going toward providing toys for kids, clothing for the homeless, food for the hungry and more.
Bannon also cited the shorter window between Thanksgiving and Christmas this year as incentive for the organization to roll out a mobile pay option. 
"So many people rely on the Salvation Army to help give kids a bright Christmas morning, and it's important to emphasize Kettle Pay because we are making up for a deficit in terms of the calendar," he said.
Bell ringers hit the streets the day after Thanksgiving.
Latest posts by MyLove Barnett
(see all)