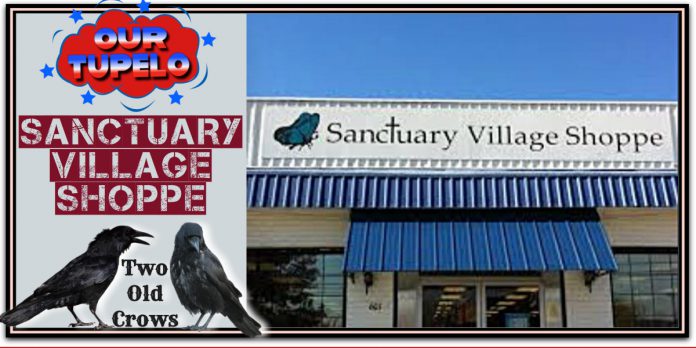 I have long been a customer of Sanctuary Village Shoppe on South Gloster in Tupelo. Why? Well, first of all, I am a 'thrifter' aka 'cheapskate'. Plus, I love the thrill of the hunt, I love the finds, and most of all, I love saving money. Of all the resale shops in this area, I would definitely say that Sanctuary is one of my top favorites. They have everything and anything you might be searching for, and since Clayton Turner has taken over the helm as manager, the appeal factor has multiplied in magnitude for me.
I have known Clayton since his days at The Cotton Bolt. Oh, how I depended on him to help me select the perfect fabrics. My grandchildren lovingly called him, Uncle Clayton, as they loved visiting with him and quite frankly, we visited often enough to consider him one of our dear relatives! I was so saddened when I learned he had left The Cotton Bolt, but when I discovered he was at Sanctuary, my old heart did a happy, Texas Two-Step.
And so, it began; frequent trips to Sanctuary. It's one of the few places I know where you can walk in with a few bucks and leave with something you can either resurface, use immediately, give as a gift, or carefully place in the china cabinet and deem it a treasure.
They literally have something for everyone…and everyone finds something. They have furniture, glassware, clothing, books, toys, pictures, picture frames, appliances, china, decorative pieces, and so much more. Basically, anything you might be searching for! But today, I want to tell you a little bit about their men's clothing section; namely, their business and sports coat and jacket section.
A while back, a friend of ours came into town and realized he had left his sport's jacket three states away. Yes, he could have gone to Belk or another of the stores that carry menswear, but he didn't 'need' another jacket, so he did not want to spend his children's inheritance on one. (Have you priced men's suits lately? Oh, good grief! They are outrageous!) So, I suggested we pop over to Sanctuary Village Shoppe to see if maybe they had one in good condition and reasonably priced. Since I had never actually looked for, or seen their men's section, I honestly did not know if they even carried sportscoats, but we soon found out!
When we walked in, wouldn't you know it? The men's section was right in front of us. Hey, who knew? I certainly didn't! The blazers and suits were sorted by size, and there were so many of them, all in good condition. As we searched for a jacket, my OCD kicked in. Each time he selected one he thought he might like, I would look for flaws, tears, and stains. Let me tell you, in looking over their vast selection, I only found two or three that had tiny pulls or stains that were so miniscule, it wouldn't matter. The search continued. Then he pulled from the rack a navy-blue jacket. It was so beautiful! I searched and found absolutely nothing wrong with it, so he slipped it on. A perfect fit, and he looked so dapper in it! It was like it was made especially for him. As I was putting back on the hanger, I looked inside the jacket. Y'all won't believe what the label had on it. Are you ready? Maybe you had better sit down for this one. What was on the label? ARMANI! Let me repeat that. ARMANI! BOOM! SOLD to the highly intelligent businessman who left his 'meeting jacket' at home…three states away!
If you are not familiar with the brand, let me give you a quick rundown. Armani is made in Italy. It is a highly sought after and very expensive brand. Their clothing is made to last, and their jackets are wonderfully tailored. Nordstrom carries these babies and they range in price from $500.00 to $1,400.00 each. Crazy, right? If you are a non-believer, go to Nordstrom's website and type in Armani Navy Blazer. You will find a photo, and a price tag attached that most of the folks I know cannot afford. Our friend's price for this blazer? $5.50. You read that right. $5.50! BOOM, CHAKA LAKA! I was beside myself, as was he. Fortunately, we had time to drop it by the one-hour cleaners for a quick spruce-up before he had to wear it. Total price for the jacket and cleaning was less than $12.00. Honestly? It looked like he just pulled it off the rack at Nordstrom's. What a deal!
So, if any of you guys are in the market for a new sports jacket or suit, my advice would be to skip the men's stores and head straight to Sanctuary Village Shoppe. If your better half cannot go with you, ask for Clayton when you get there. He will steer you in the right direction and give you his honest opinion on the fit. Oh, and hey! They have formalwear, women's and children's clothing too.
So, the next time you are in the market for a generally high-dollar piece of clothing, check Sanctuary first. You just might find the perfect piece of clothing for a little chunk of change. Do me a favor? If you do go and find your dream dress or sought-after suit, post a picture of you wearing it. I would love to see your steals! Happy Shopping, y'all!
Sanctuary Village Shoppe is located at 601 South Gloster Street in Tupelo, Mississippi.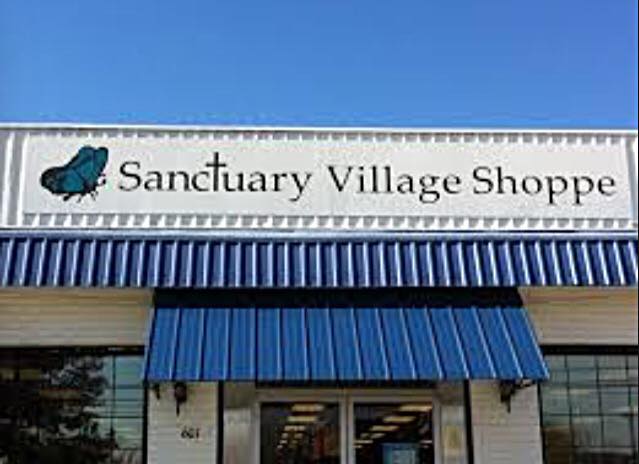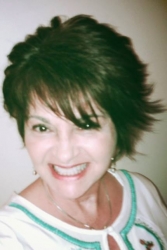 Latest posts by Wanda Anderson Pearson
(see all)