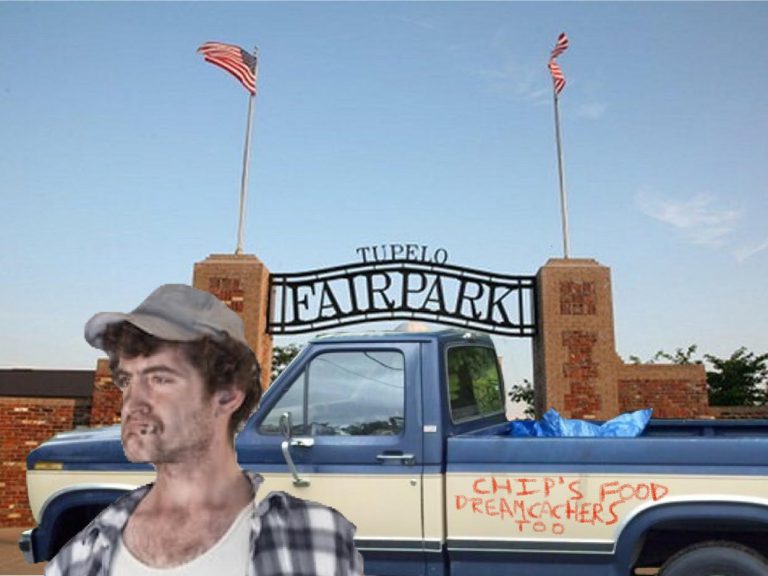 TUPELO – Tupelo resident Chip Holmes claims there's no reason that he and his '86 Ford F150 pickup should be excluded from participating in Food Truck Friday.
"I don't know why more people ain't doing this. Shoot, I got a truck, I got a generator, and I got a George Foreman. What else do I need?"
Tupelo City Council member David Nichols says that there is one thing Holmes doesn't have that he needs: a permit.
Holmes is of a different opinion.
"I used to sell grilled cheeses in the parking lot at Phish shows from this very truck. That's how I paid for the entire '94 Fall Tour. I didn't need a permit then, so why do I need one now? If it was good enough for the hippies, it's good enough for Tupelo! Roll Tide!"
When asked what made him decide on this career path, Holmes claims it was out of necessity.
"My job don't pay much. Every morning and evening, I set up a table at the Cooper Tire employee entrance and sell dreamcatchers. Unfortunately the dreamcatcher industry is in decline. I saw how well those food trucks do, so I decided to get in on the action."
The other food truck owners in Tupelo were asked their opinion on Holmes' s attempt at food vending.
"Our business hasn't suffered a bit," replied one food truck owner. "No one wants to buy a panini from a truck with 400 styrofoam cups on the dashboard, floorboards made of McDonald's Filet-O-Fish wrappers, and truck nuts owned by a guy with black under his nails who looks like he might also sell dreamcatchers on the side of the road for a living. He even put up a homemade health inspection certificate — a sheet of notebook paper with an 'A' in Sharpie — in his rear window right next to the decal of Calvin peeing on a Chevy logo. We're all good."
Holmes has no intention of stopping his operation. He is currently running a special: Buy two bologna paninis, and get a dreamcatcher for half price.
Latest posts by Zach Bragg
(see all)